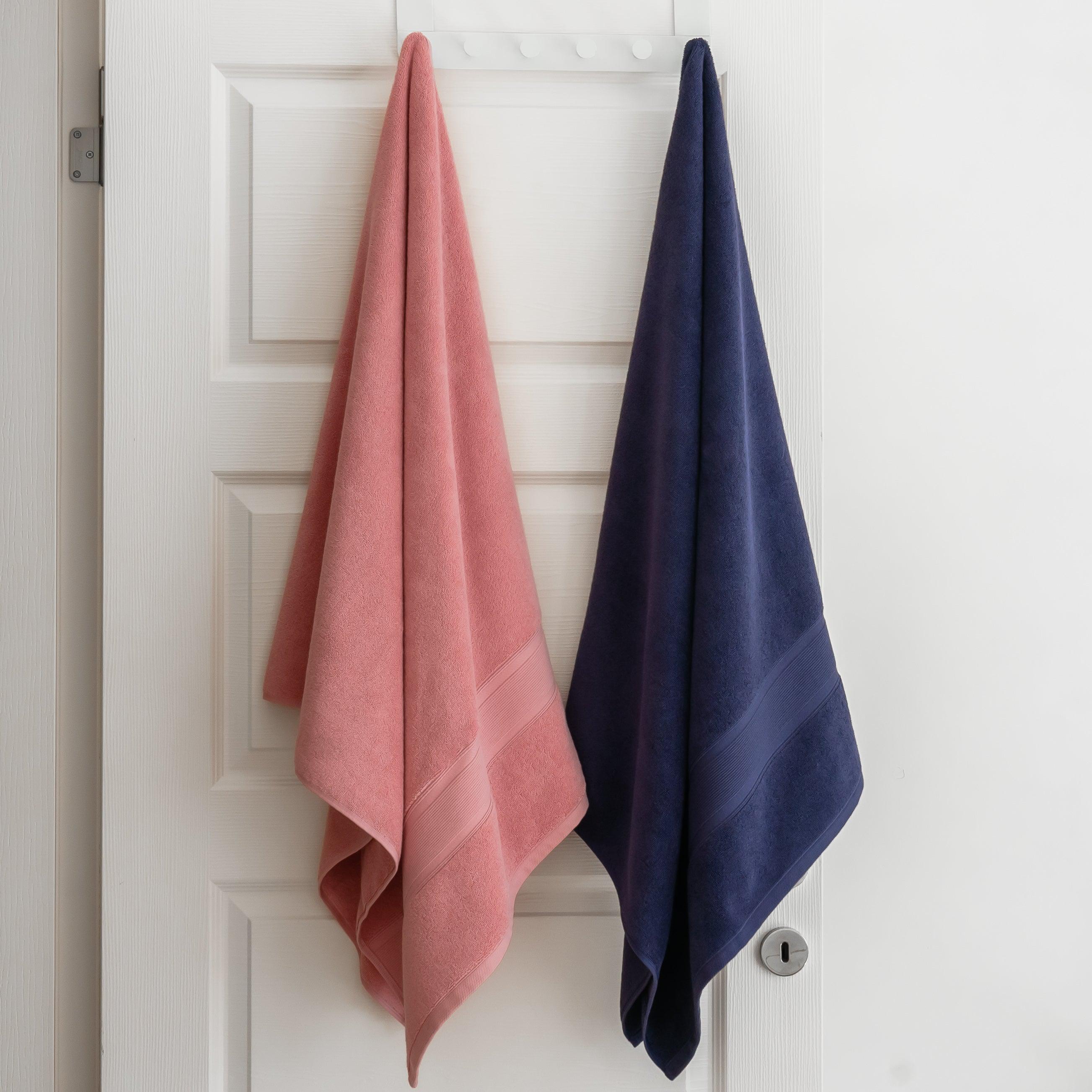 Navy Blue and Coral: The Perfect Duo in Colors
Long gone are the days when only white towels were possible and available choices. The fashion and textiles industries have gone a long way since those times, including the most unique and beautiful colors and shades that come on the bathroom towels. Home textiles industry is now painted with various bold and vibrant colors, all with the idea of beautifying the home décor and interior design. 
Pairing colors is not always easy, but it's fun. Colors that look good together like navy blue and coral are called a color harmony. At Luzia, we love to play with colors to create marvelous looks in your bathrooms. Among all color harmonies, we choose navy blue and coral as the perfect duo of this year. Here's why we love this combination and think navy blue and coral towels are stylish and contemporary additions to any bathrooms.
Navy blue is a dark, royal shade that is very popular on the fashion scene. Inspired by sailors, naval style and deep blue oceans, navy blue is a timeless classic. It brings the subtle but impressive pop of color,  but keeps the muted and classic look. When it comes to interior design, the navy blue presents a quite fabulous and versatile look with the proper lighting.
Unlike the rest of the deeper blue shades, navy blue is a calm one. It provides an inexplicable calmness, which makes it a great color choice as a towel. Wrapping yourself up in a navy blue towel, after a long bath, is a feeling that relaxes the senses and the mind, too. The high quality and precise manufacturing of Luzia towels works excellently with this rich and chic color.
Coral, on the other hand, brings liveliness and joy to anything it touches. It is also very happy shade that appeals to different ages and styles. Chosen by Pantone as the color of 2019, coral came as an inspiration from the coral reefs. The unique, beautiful and colorful underworld life and the color that the coral reefs provide was something that needed to be accented. Today, almost two years later, coral is still popular and desired color. Its undertones deliver a warm and sophisticated look, no matter if it comes as a base color or just a detail. 
Coral is sugary, sweet, fresh, and warm – everything one relaxing bath should be. It is an interesting and unusual pop of color that will look excellent on the towel holder, just right next to your navy blue towel. 
These two opposite colors match great and look wonderful together. Navy blue is a dark shade, with blue and black undertones, that styles excellently will both lighter and darker tones. Coral is a vibrant, rich and bold color, coming with a mixture of red, orange and pink undertones. One next to the other, this color duo will look very trendy and stylish and it can bring a new vibe not to your bathroom, but to your entire home. 
At Luzia, we are constantly following the newest and changing trends in the fashion industry, with the intention and desire to provide our customers the most stylish bathroom towels. Now, you have read these mix&match tips, why don't you take a look at our navy blue and coral towels once again?